Feel the full force of every movie soundtrack with this SONY SOUNDBAR 600W that comes with 5.1Channel for Real Surround sound. The 5.1 channel system has been carefully engineered to deliver a balanced audio response across all frequencies, while the sub-woofer adds more body to your bass – so every explosion and action sequence hits harder than ever before.
Seamless Streaming with NFC and Bluetooth Technology
Sound Bar Type 5.1 ch Tall Boy Home Theatre HT-RT40 comes with total power output and 5.1 ch real cinematic surround sound effect. You can choose between Wall Mount or Table Top Design to add aesthetics to your living room. The Tall-boy rear speakers immerse you deeper in the movies you love with real surround sound.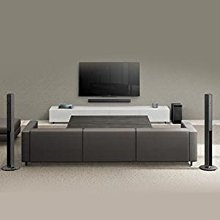 Clean and Easy Set Up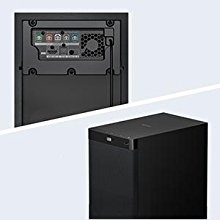 HT-RT40 is almost ready to go, straight out of the box. Only 3 speaker cable allows you to keep things neat and tidy. The tall boy speakers are easy to place for perfect surround positioning.
5.1 Channel Dolby Digital Surround Sound
Get the best seat in the house! A three channel soundbar, subwoofer and powerful tall-boy rear speakers create authentic cinema surround sound.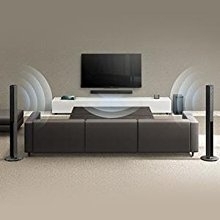 Perfect Music Companion with USB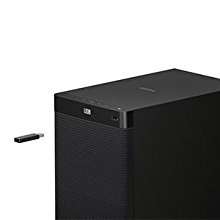 Carry your favorite music in USB or in your Smartphone. Play your favorite songs by just plugging in your USB.
Perfect Music Companion with NFC / Bluetooth
HT-RT40 becomes a Perfect Music companion for all your Music needs. Simply touch your NFC-enabled smartphone or other device to the on-body N-mark and start your music.You can also pair the devices manually in Bluetooth settings.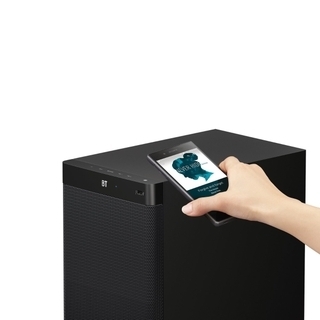 TECHNICAL SPECIFICATIONS
Electrical Features
Power Consumption (Inoperation) (watts): 85
Output
Power output-Total (watts): 600
General
Category Type
Audio Ports
Audio Line-in (Analogue): Yes
Input Output Ports
USB: Yes
Video signal out (HDMI): Yes
Audio Technology
Dolby Digital Output: Yes
Dolby Prologic: Yes
HDMI Control
Sub-woofer Features
Sub-woofer-Active/Passive: Active
Sub-woofer weight (kg):  7.8