Powerful speakers.
LG XBOOM CJ44 System comes with a 480W total power output. This means that the speakers are loud, letting you enjoy listening to your music. The sound LG XBOOM CJ44 System will have you grooving to the beat each time you play music.
K

araoke Support.
If you like to sing, then LG XBOOM CJ44 is the system to get. LG XBOOM CJ44 System comes with Karaoke supports that let you perform your favorite songs as they play. It comes with a Voice Canceller that limits the volume of the song you're singing along to so that it does not overwhelm your voice. It also has a Key Changer that automatically adjusts the pitch of the song you're singing to so that it matches your voice.
Wirele

ss Connectivity.
LG XBOOM CJ44 System comes with Bluetooth connectivity. With Bluetooth connectivity, you can play music from your mobile device wirelessly.
480W RMS
4 Speakers
Stereo system
Feel the beat with intense, powerful sounds
With up to two USB ports you can have more music ready to go.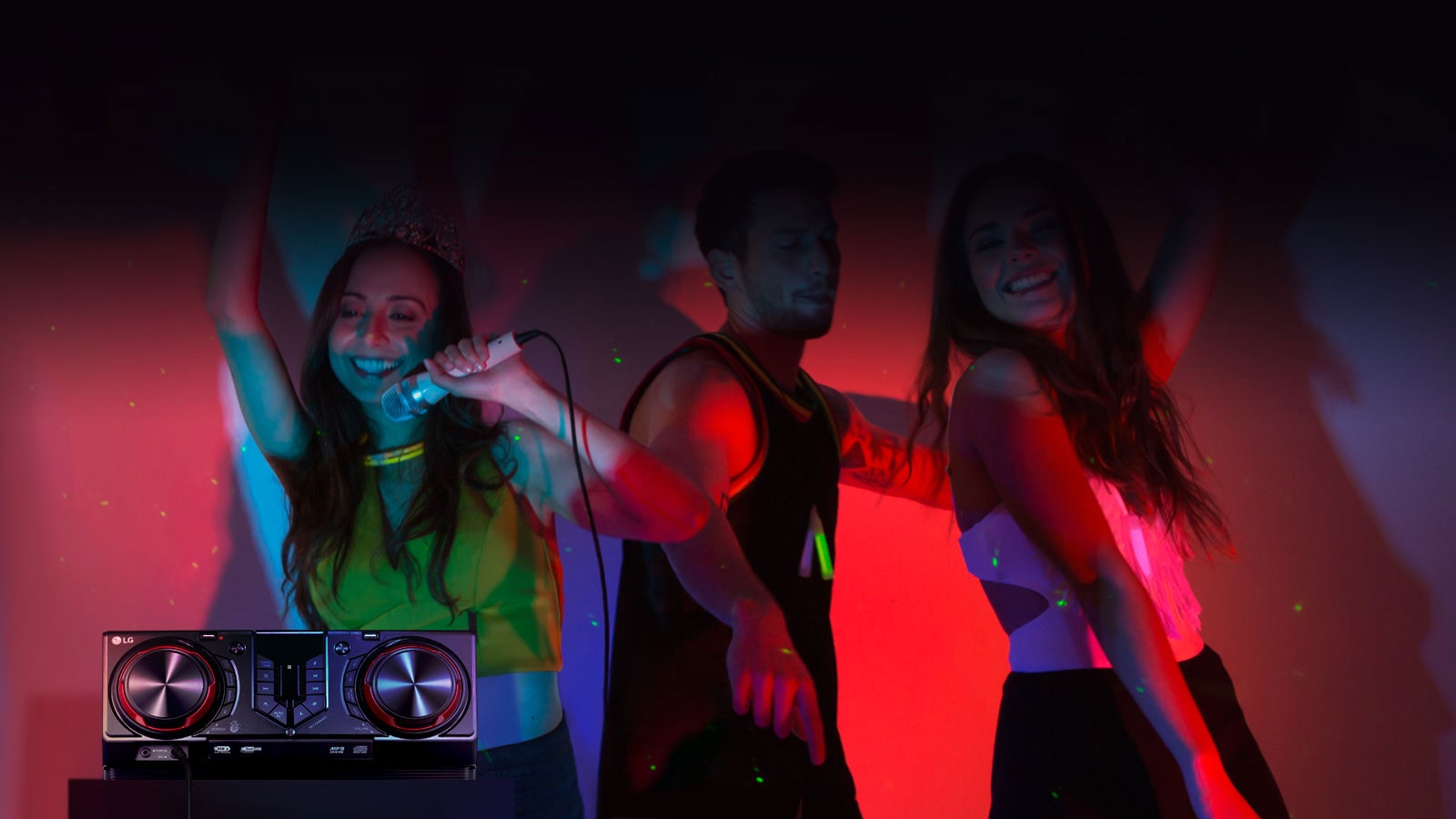 Karaoke feature with Voice Canceller & Key Changer
Sing along to any track! Voice Canceller reduces the existing song's vocals, so that your voice can be heard more clearly. Key Changer adjusts the pitch of the song to suit your voice!
Bluetooth Music Streaming/Bluetooth® Multipoint
Stream your music
Use Bluetooth® audio streaming to listen to music and online music streaming services via your mobile device.
GENERAL
Entity

GF/EF/YK/AF/SB

Target MP

17.3

System Model Name

CJ44-FB

System Model Name – Main Set

CJ44

System Model Name – Speaker Total

CJS44

System Model Name – Front Speaker

CJS45F
AMPLIFIER
Power Output – Front

240W x 2

Function Selector – CD/DVD

Yes/No

Function Selector – Tuner

Yes

Function Selector – AUX1

Yes

Function Selector – USB1

Yes

Function Selector – USB2

Yes

Function Selector – Portable In

Yes

Function Selector – Bluetooth

Yes
INTERFACE
Audio In – USB 1

Yes (Front)

Audio In – USB 2

Yes (Front)

Audio In – Portable In

Yes (Front)

Audio In – AUX IN 1/2 (L/R)

1 (Rear)

Door Lock Key (Disc)

Yes

Speaker Out – Front L/R

1/1

Radio Antenna – FM

Yes

Karaoke Function – Mic Volume (on Main Set)

Yes

Karaoke Function – Mic Jack

1EA (Φ6.3)

Karaoke Function – Echo (on RCU)

Yes
DISPLAY
Type

CM4740

Demo

Yes

Dimmer

Yes
SOUND
EQ – Standard

Yes

EQ – Pop

Yes

EQ – Classic

Yes

EQ – Rock

Yes

EQ – Jazz

Yes

EQ – Bass Blast

Yes

EQ – Football

Yes

Local EQ – Dangdut

Yes

Local EQ – Arabic

Yes

Local EQ – Afro Hip-hop

Yes

Local EQ – India

Yes

Local EQ – Regueton

Yes

Local EQ – Merengue

Yes

Local EQ – Salsa

Yes

Local EQ – Samba

Yes

Local EQ – Axe

Yes

Local EQ – Forro

Yes

Local EQ – Funk

Yes

Local EQ – Sertanejo

Yes

Multi Jukebox

Yes

Auto DJ

Yes
POWER
Power Requirement – Narrow (50/60Hz)

110 or 220/230V 50/60Hz

Power Requirement – Wide

110/220V

Power Consumption

80W

Power Consumption at stand by

0.5W↓
AUDIO CONTROL
2Ch Stereo(By-Pass)

Yes

Mute

Yes
TUNER
Type

PLL

Band

FM

Tuning Range – FM (50kHz / 100kHz)

87.5 ~ 108.0 MHz

Station Preset

Ran.50

Memory / Erase

Yes/Yes

Clock/Alram/Sleep/Set

Yes/Yes/Yes/Yes
PLAYABLE DISC, FILE TYPE/CONVENIENCE
Disc

1

Loading Type

1-CD Tray

Playable DISC Format – Audio CD

Yes

Playable DISC Format – MP3/WMA CD

Yes/Yes

Playable DISC Format – CD-R/CD-RW

Yes/Yes

Playable File Format – MP3

Yes

Playable File Format – WMA

Yes

Convenience – Repeat 1/All

Yes/Yes

Convenience – Program Play(track)

Yes (60)

Convenience – Random Play

Yes

Convenience – Skip – Fwd/Rev

Yes

Convenience – Scan – Fwd/Rev

Yes

Convenience – USB direct recording

Yes

Convenience – Dual USB (USB1 to USB2 recording)

Yes

Convenience – MP3P battery charging by USB / micro USB

Yes/No

Convenience – Bluetooth

Yes

Convenience – Bluetooth Remote App

Yes

Convenience – MP3/WMA ID3 Tag Display

Yes

Convenience – File/Folder search with music playing (EZ File Search)

Yes

Convenience – File delete

Yes

Convenience – BluetoothAuto Function Change

Yes

Convenience – TV Sound Sync.(LG TV)

Yes

Convenience – Bluetooth Power on (Stand by)

Yes

Convenience – Fota

Yes

Convenience – Bluetooth Multi Paring

Yes

Convenience – Auto Music Play (Move&Play)

Yes

Convenience – Wireless Party Link

Yes
KARAOKE
Echo Mode

Yes

Voice canceller

Yes

Key changer

Yes
REMOTE COMMANDER & ACCESSORY
Remote Control Unit – Unit

Yes

Remote Control Unit – Model name

MA2

Remote Control Unit – Battery

AAAx2

Instruction Manual – Book

Option

Instruction Manual – Simple

Option

Warranty Card

Yes

FM Antenna

FM 75Ω ANT

Carton Box Type (Tip on / Offset / Flexo)

Flexo

Speaker Cable

Fixed Type
SPEAKER
SPEAKER Sytem Model Name

CJS44

Front Speaker – Model name

CJS45F

Front Speaker – SPL

83dB

Front Speaker – System

2Way 2Speaker

Front Speaker – Tweeter Unit

1.57″

Front Speaker – Woofer Unit

6.5″

Front Speaker – Impedance

3Ω

Front Speaker – Magnetic Shielding

No Shield