Get the surround sound experience in your home with HTS DVD Full HD 330wats 5.1 Ch that brings to life every sound you hear with 5.1 channels 330W power output. It brings theater like sound at your home and you can relish the best sound quality that catches the thumping lows and delivers crisp high. You can never miss out on even the faintest beat or rumble of leaves with the latest home theater addition in your living space.
5.1 Channel Real Surround Sound
Enjoy high-quality surround sound from 5.1 audio channel to enhance watching experience of your favorite content.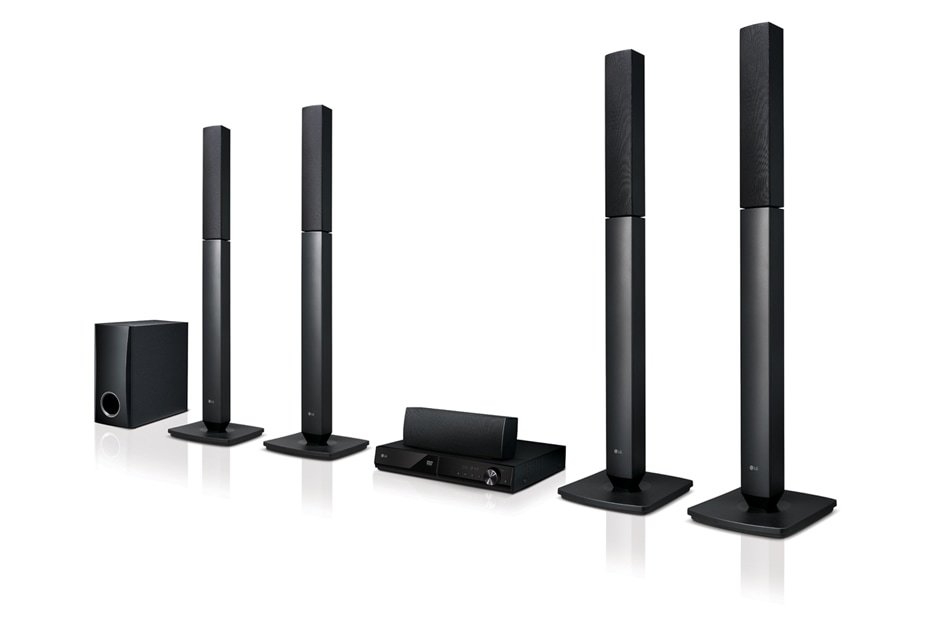 Powerful Bass Sound
Experience powerful bass through specially tuned sound matrix from LG. Bass Blast realizes dynamic and deep bass sound quality.
Amplifier
Total Power Output : 330W
Center : 42W
CH : 5.1
Sub-Woofer : 120W(Passive)
THD 10% Front L/R : 42WX2
Rear L/R : 42WX2
Convenience
A/V Sync Delay(Audio Delay)
Dimmer
Simplink
Sleep
Speaker Distance(channel delay)
Speaker Level Trim
Test Tone
TV Sound (direct key)
Karaoke-MIc Volume
Karaoke-Echo Volume
Dynamic Range Control-On/Off
Karaoke-Fanfare
Karaoke-Scoring
Karaoke-Howlling Canceller
Karaoke-CD Voice Remover
USB Direct Recording
Volume on TV
Audio Format
Dolby Digital
MPEG 1/2 L2
MP3 / ID3 Tag
LPCM : LPCM
WMA
Disc (BD, DVD, CD) Playback
Auto Power Off
Initial logo
Parental Lock
Screen Saver
DVD
Other Features
GUI/ Menu : Language MEA
Last Scene memory
NTSC/PAL Hz : 60Hz / 50Hz
NTSC⇔PAL Conversion
Resolution : upto 1080p24/60Hz
VBI (WSS/CGMS-A/Closed Caption/Macrovsion)
Video DAC : 148MHZ/12bit
Graphics/Subtitle Format
Graphics/Subtitle Format : 2bit/ 8bit Sub-picture Text-based Subtitle
In & Out Front
Display : FLD
Mic In(φ6.3)
Portable In
USB : 1
In & Out R/Panel
Audio L/R
Composing of channel : 3
Composite
Optical : 1
HDMI Output : 1
Terminal Type : Push in (Spring)
Playable
DVD(NTSC)
DVD(PAL)
DVD-R
DVD-RW (Video)
DVD+R
DVD+RW(Video mode)
Video CD
Audio CD
CD-R / CD-RW
Radio
Tuner Type : PLL
Tuning Up/Down
Preset Up/Down
Band : FM
Preset Memory : 50 Station
Repeat Play
Chapter
CD-DA, MP3/WMA
Random Play Mode
Title/Track
Resume Stop : DVD(-VR), CD-DA,MP3/WMA
Power
Power Consumption : 90W
SMPS : 200-240, 50/60Hz