The HISENSE 4K ULTRA HD SMART TV delivers stunning picture qualities that just might make you the most popular host on the apartment. Watch premium content from NETFLIX, YOUTUBE as well as other in-built apps. Use your smartphone to share your vacation photos on the TV. Get to download more apps from the Opera store, or browse the web from your couch. With the VIDAA SMART dimensional OS, you will also enjoy quick loading times as well as a user-friendly interface.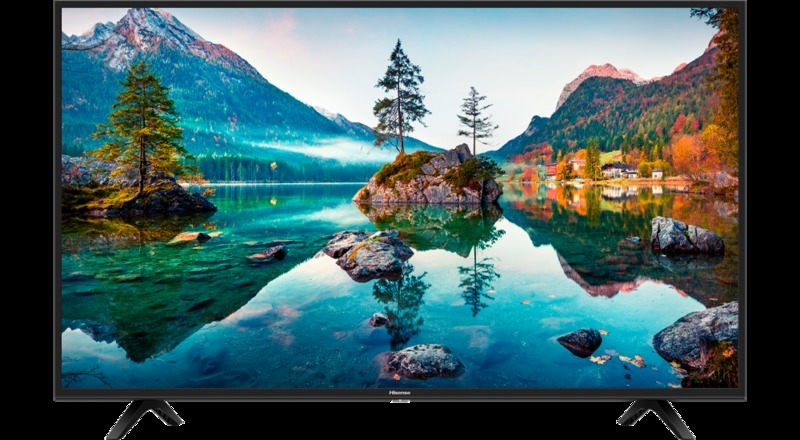 The HISENSE 50″ 4K ULTRA HD SMART TV makes a perfect addition to the contemporary rooms. When switched on, the backlit LED screen churns out images and videos with amazing contrast and details.
Ultra High Definition TV
The Hisense 50″ UHD LED display generates amazingly clear, razor sharp images in ULTRA HD resolution. Moreover, the TV comes with the latest DVB-T2 technology for the best & clearest digital TV signals so you can enjoy in-built free local TV channels off the box. Image Digital LED Technology. Witness the entire RCG spectrum brought to life on your screen. This Hisense LED TV brings you exceptionally vibrant and true-to-life images delivered just as the director imagined.
The USB Digital Media Player
The USB Digital Media Player provides you with the flexibility to enjoy not only photos or music, but also ULTRA HD multimedia files directly in your TV via USB.
Explorer More Connectivity Options
The HISENSE 4K ULTRA HD SMART TV features USB and HDMI ports to which you can connect your DVD players, cameras, external hard drives and more. Now you can enjoy all your multimedia content of these gadgets on the big screen, right from the comfort of your couch. It also features a VGA & PC audio input. It also has the option of screen mirroring.
·         50" 4K ULTRA HD backlit panel, HDR 10, 4K Certified with UHD Upscaler
·         Vidaa Smart TV with Remote Now, One Touch Access, Anyview Cast and App Store
·         Includes Netflix, Youtube and Showmax
·         2.4GHz Wi-Fi connectivity and Ethernet port
·         Precision Colour, Depth Enhancer, Clean View
·         Clean Audio
·         DTS Studio Sound, Dolby Digital, Audio Equaliser and Automatic Volume Level
·         Media Playback via USB
·         3 x HDMI port – one with Audio Return Channel (ARC lets you have one connection between your TV and whatever you use to create sound: a receiver or a sound bar)
·         Analogue receiver and DVB-T2 Digital Tuner
·         VESA wall mount compliant
KEY FEATURES
HISENSE 50" 4K ULTRA HD SMART TV
50" 4K ULTRA HD SMART TV
4K ULTRA HD SMART TV
FRAMELESS TV
NETFLIX
YOUTUBE
SHOWMAX
OPERA TV STORE
CLEAN VIEW
SMART TV
VIDAA SMART
ONE TOUCH ACCESS
NATURAL COLOUR ENHANCER
NETFLIX ONE-CLICK REMOTE
PRECISION COLOUR
HIGH DYNAMIC RANGE
DEPTH ENHANCER
SLIM DESIGN
PRIME VIDEO
GAME CENTER
TV BROWSER
WHAT'S IN THE BOX
HISENSE 50" 4K ULTRA HD SMART TV
User Manual
Remote Control